We are all well acquainted with the with cancer and the detrimental affect it can have on your body. Cancer has become such a common illness within our society that we chalk it up to it being an inevitable illness. Rarely do we think about cancer causing products that are right in our home. The less we think of cancer as unavoidable, the more we become proactive with researching outside factors that may contribute to this illness that's spreading like wildfire.
Cancer Statistics In America
How common is cancer and what cancers are more common? Below is a brief overview of projected cancer stats in America for 2016:
In 2016, an estimated 1,685,210 new cases of cancer will be diagnosed in the United States.
595,690 people will die from the disease.
The most common cancers in 2016 are projected to be breast cancer, lung and bronchus cancer, prostate cancer, colon and rectum cancer, bladder cancer, melanoma of the skin, non-Hodgkin lymphoma, thyroid cancer, kidney and renal pelvis cancer, leukemia, endometrial cancer, and pancreatic cancer.
The number of new cases of cancer is 454.8 per 100,000 men and women per year.
The number of cancer deaths is 171.2 per 100,000 men and women per year.
Cancer mortality is higher among men than women.
Cancer mortality is higher in African American men and lowest in Asian/Pacific Islander women.
The number of people living beyond a cancer diagnosis reached nearly 14.5 million in 2014 and is expected to rise to almost 19 million by 2024.
Approximately 39.6 percent of men and women will be diagnosed with cancer at some point during their lifetimes.
In 2014, an estimated 15,780 children and adolescents ages 0 to 19 were diagnosed with cancer and 1,960 died of the disease.
The number of new cancer cases will rise to 22 million within the next two decades.
What can you do to reduce your risk of cancer?
Do those statistics make you believe cancer is unavoidable or does it make you think, What the heck is going on in the world and what can I do to reduce my chances of cancer? There are so many ways to lower your risk of getting cancer, such as:
Unhealthy diet
GMO's
Unhealthy habits (smoking, alcohol, drug usage)
Antibiotics
But for now we will talk about products in your home that are absolutely increasing your risk of cancer.
11 Cancer Causing Products In Your Home
1. Johnson & Johnson Baby Powder

Labeled toxic ingredient:
–Talc
Talc is a mineral that is mined from deposits around the world, including the U.S. A naturally-occurring mineral, talc is mainly made up of the elements magnesium, silicon, and oxygen.
In its natural form it contains asbestos.
The link between cancer is undetermined but Johnson and Johnson have settled multiple  claims in court ranging from $55-$75 million in damages.
Cancer(s) it's been linked to:
Ovarian cancer
Lung cancer
2. Crest Tartar Control Toothpaste
Labeled toxic ingredient:
–FD&C BLUE #1, Carcinogen
Brilliant Blue FCF is an organic compound classified as a    triarylmethane dye, reflecting its chemical structure.
Cancer(s) it's been linked to:
Tumors found in the kidneys
–SACCHARIN, Carcinogen
Saccharin is an artificial sweetener with effectively no food energy which is about 300–400 times as sweet as sucrose or table sugar, but has a bitter or metallic aftertaste, especially at high concentrations.
Cancer(s) it's been linked to:
-FLUORIDE, Carcinogen
Fluoride is an inorganic, monatomic anion of fluorine with the chemical formula F−.
Cancer(s) it's been linked to:
3. Tide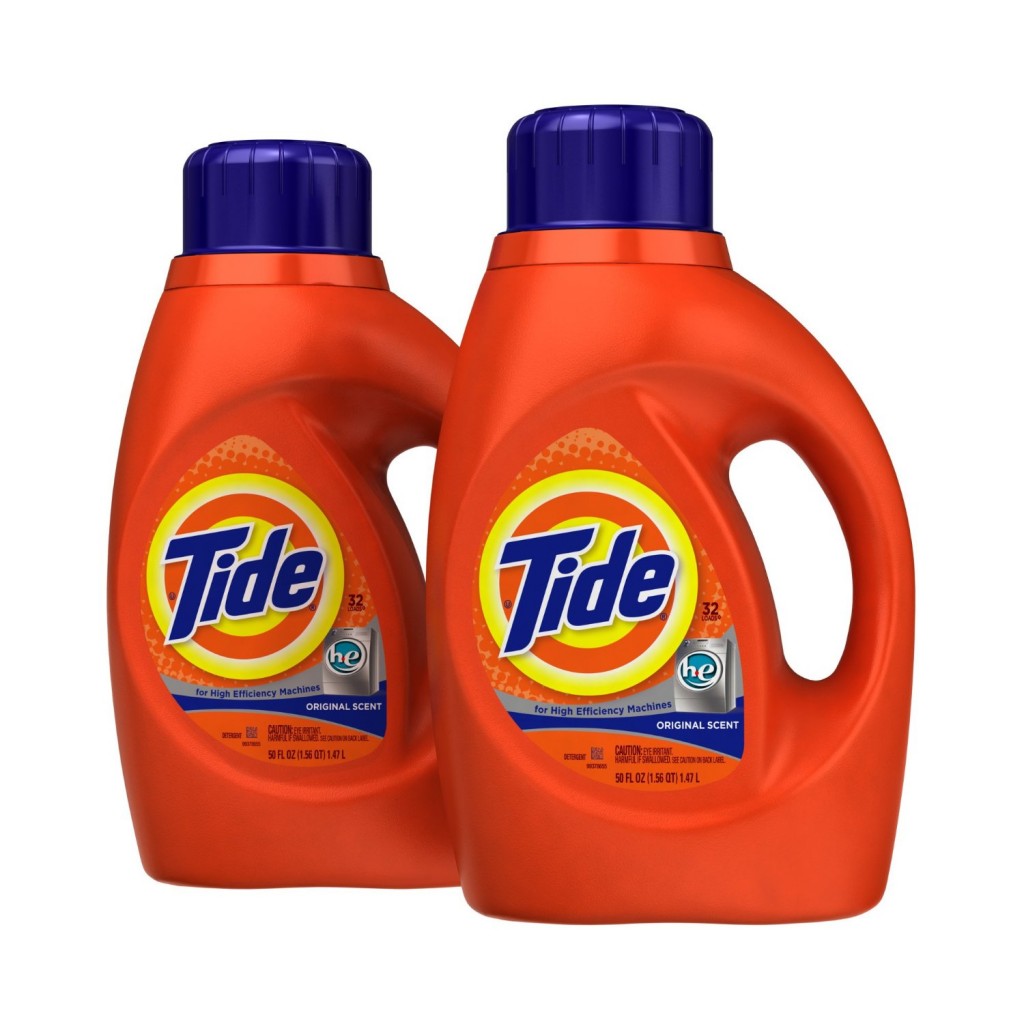 Labeled toxic ingredients:
-1,4 Dioxane
1,4-Dioxane is a clear liquid that easily dissolves in water. It is used primarily as a solvent in the manufacture of chemicals and as a laboratory reagent; 1,4-dioxane also has various other uses that take advantage of its solvent properties.
Cancer(s) it's been linked to:
4. Febreze
Labeled toxic ingredients:
– Acetaldehyde:
A product of alcohol metabolism that is more toxic than alcohol itself, acetaldehyde is created when the alcohol in the liver is broken down by an enzyme called alcohol dehydrogenase.
On California's Prop 65 list for cancer and reproductive toxicity.
Cancer(s) it's been linked to:
–Ethyl Acetate
Ethyl Acetate is a colorless liquid with a smell similar to glue or nail polish that is used as an industrial solvent.
A chemical toxic to the brain and nervous system.
Cancer(s) it's been linked to:
–1,3-dichloro-2-propanol
Used in flame retardants, resins, plastics, and rubber; has been linked with cancer in animal studies, according to the California Environmental Protection Agency.
Cancer(s) it's been linked to:
Liver cancer
Kidney cancer
Lung cancer
–Phthalates
Phthalates are a group of chemicals used to make plastics more flexible and harder to break.
Cancer(s) it's been linked to:
5. Hair Dye
Labeled and unlabeled toxic ingredients:
Over 5,000 different chemicals are used in hair dye products, some of which are reported to be carcinogenic (cancer-causing) in animal studies.
Cancer(s) it's been linked to:
Hodgkin's Lymphoma
Breast cancer
Bladder cancer
Follicular Lymphoma
Leukemia
6. AJAX (plus bleach)
Labeled toxic ingredients:
-Crystalline silica
Naturally occurring impurity in calcium carbonate. NTP has listed crystalline silica as a carcinogen. Overexposure to this may also cause respiratory tract irritation.
Cancer(s) it's been linked to:
7. Lysol Disinfectant Spray (aerosol)
Labeled Toxic Ingredient:
ORTHO-PHENYLPHENOL (OPP): Carcinogen. Highly acutely toxic, cholinesterase inhibitor, known groundwater pollutant, pesticide.
Cancer(s) it's been linked to: 
Lung cancer
Gastrointestinal cancer
Renal cancer
8. Oscar Meyer Beef Franks
Unlabeled Toxic Ingredients:
BENZENE HEXACHLORIDE
Carcinogen
DACTHAL
Carcinogenic (possibly contaminated with dioxin); causes irritation; strong sensitizer
DIELDRIN
DDT
HEPTACHLOR
Carcinogen; neurotoxin; affects the reproductive system; xenoestrogen
HEXACHLOROBENZENE
Carcinogen; neurotoxin; teratogenic
LINDANE
Carcinogen; neurotoxic; damages blood forming cells
HORMONES
ANTIBIOTICS
Potential carcinogens, cause allergy and resistance to drugs
Labeled Ingredient:
NITRITE
In the reaction with meat amines forms carcinogenic nitrosamines. These increase the risk for childhood cancers.
Cancer(s) it's been linked to:
Gastrointestinal cancer
Multiple childhood cancers
Brain Cancer
9. Chlorine Bleach        
Labeled toxic ingredients:
Chlorine Bleach
Chlorine Bleach is a strong corrosive material.  It will irritate the eyes, skin and the respiratory tract by merely inhaling the gasses.  The dangers of bleach are even greater when mixing it with other cleaners.  When this happens a poisonous gas is released that can cause bloody noses, neurological disorders, headaches and even death.
Cancer(s) it's been linked to:
Breast cancer
Multiple respiratory cancers
10. Aveeno
Labeled toxic ingredients:
Di-PPG 2 Myreth-10 Adipate
Synthetically made and goes through the process of ethoxylation, which means it has a higher probability of being contaminated with 1,4-dioxane.
1,4-Dioxane 
A chemical by-product that is a known animal carcinogen and penetrates readily into the skin. PEG-20 Methyl Glucose Sesquistearate
 Contains ethoxylation, and carries the same risk of 1,4-dioxane contamination.
TEA Cocoyl Glutamate
A mild surfactant that has a risk of being contaminated with nitrosamines—which are banned in the European Union and prohibited from use in Canadian cosmetics because of the strong evidence linking them with cancer.
ALSO CONTAINS: Petrochemicals (caprylyl glycol, acrylates/C10 30 alkyl acrylate crosspolymer, and hexylene glycol), tetrasodium EDTA, a chelating ingredient that has poor biodegradability, and another preservative that could lead to sensitization of the skin (methylisothiazolinone).
Cancer(s) it's been linked to:
11. Suave Conditioners
Labeled toxic ingredients:
Methenamine
Carcinogen; Used in adhesives, coating, sealants, chemical stabilizers and is also a curing agent. Also used in antibiotics and as an anticorrosion agent.
Cancer(s) it's been linked to:
Why take the extra risk of buying these products when cancer is so prevalent in our society? Spend the extra money or create your own products that you know are 100% safe. This is such a small list but take note of the ingredients I listed that are known carcinogens so you know what to look for on your routine shopping trip. Take the extra 5 minutes to read what your bringing into your home because your health is essentially your happiness.
Image: http://www.pbase.com/image/18625431